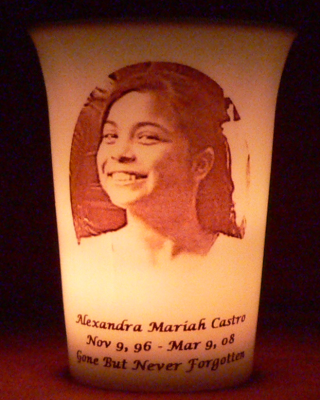 I received one of your votive holders 6 years ago as a gift. I still light it. It was my favorite gift to comfort me!
Brenda C.
Charles Town, WV.
A Warm Light for a Bedside Table
How can we comfort ourselves when we lose someone we love? How can we honor and hold dear their memory?
Mourninglights™ are glass memorial candleholders custom printed with the image of those we loved. Family member or friend, Mourninglights™ are a way to remember those who have been taken from us; a warm light in the darkness upon which to recollect.
Made of white milk glass and 3 1/2" tall, Mourninglights™ are printed with a ceramic ink that is fired into the glass and will not fade or yellow even in direct sunlight. Refillable, they come with a 15 hour votive candle and are gift boxed within the shipping container.
Price and Delivery
Mourninglights™ memorial candles are $24.95 plus $7.00 for shipping and handling anywhere in the United States and ship by Priority Mail within 5 to 7 days. Express your sentiments with a two line inscription printed beneath the image. A third line is available for an additional charge of $3. Battery operated LED lights are also available for those concerned with open flames.
International shipping costs vary by country. Click on the Purchase link to order or contact your funeral director or monument dealer and ask for us by name.
Memorial Gifts

Are you giving Mourninglights™ as a memorial or sympathy gift? Choose either a gift card or have your signature printed directly on the reverse and always be remembered at no extra charge.
Free Layout, No Commitment
Visit our Photo Guide page for a free layout image before ordering.
Should you be dissatisfied with our product for any reason, simply return it to us within 30 days for a full refund.