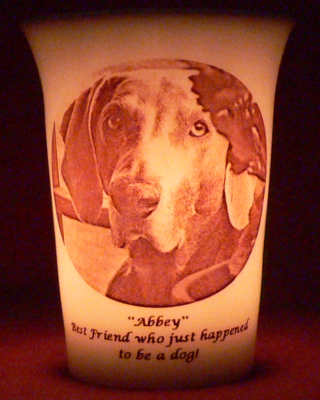 I found your website by Googling mourning items for pets. I'm so very happy I did. It has given my friend comfort and a lasting memory. Your website will be suggested to others when the need arises. You do beautiful work. I thank you!
Olivia J.
Moosic, Pa.
A Warm Light for a Place of Honor
How can we pay tribute to a pet for years of companionship? How can we comfort ourselves and keep the memory of happy times bright?
Mourninglights™ are glass memorial candles custom printed with the image of the pet we loved. Made of white glass and 3 1/2" tall, Mourninglights™ are printed with a ceramic ink that is fired into the glass and will not fade or discolor even in direct sunlight. And Mourninglights™ are re-fillable with common votive candles or battery operated tealights so they can be lit again and again. Whether your Mourninglight™ glows from a mantle or from a dresser top, Mourninglights™ become part of the ritual of remembering and will last year after year to commemorate that special bond.
Price and Delivery
Mourninglights™ are $24.95 plus $7.00 for shipping and handling anywhere in the United States and ship by Priority Mail 5 to 7 days after your order is placed. International shipping costs vary by country. Mourninglights™ come with a two line inscription of up to 30 characters per line. A third line is available for an additional $3.00. Click on the Purchase link to order.
Visit our Photo Guide page for a free trial.
Pet Memorial Gifts

Mourninglights™ make expressive, one of a kind gifts of remembrance and are gift boxed within the shipping container. Each includes a 15 hour votive candle and a gift card or your name printed on the reverse if you desire, at no extra charge. Battery operated lights are available for an additional $3 for those concerned with open flames.
Don't have a photo of the pet you'd like to memorialize? Give a Mourninglight™ gift card by clicking on the Gift Card link.
Should you be dissatisfied with our product for any reason, simply return it to us within 30 days for a full refund.